Welcome to Painting Holidays with Adam Cope
in the Dordogne, South West France.

A quality painting course in the presbytery of a medieval abbey, . Set in a sleepy, friendly, rural french village, deep in the tranquil Dordogne countryside, with lots of good subjects to paint.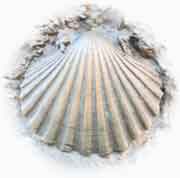 The abbey is a UNESCO World Heritage site, on the Camino de Saint Jacques.
This ten day artist's retreat gives you time to focus on your painting.
The two extra days really count. I can see the difference. It allows you to go deeper into your creative practice.

The Tutor Adam Cope
There's also an optional day trip out to a prehistoric painted cave. Easy to get to, fly to Bergerac. Airport transfers included.

An Inspirational Studio
Your studio is the seventeenth century presbytery, which is found inside the abbey's defensive walls. It has a covered sun terrace, half inside & half outside, with very paint-able views of the abbey.

Inside, it's a beautiful, well-lit space, germane to creativity. It is a large building which quietly inspires. You will have lots of space to spread out and paint because there are four different rooms. Ten days in such a spacious studio is a good opportunity to really learn how to finish a painting successfully, something that most beginner level painters have difficulty with. So this painting workshop will be a balance between studio work inside & painting outside 'en plein-air'. Sometimes we learn how to paint portraits. Or maybe Adam presents an aspect of painting technique.

Maybe you choose to paint some still-lives as we'll be going to a colourful local market, so you can select your subject matter. There will be bouquets of flowers in the studio for you to study how colour operates in painting. Early summer in the Dordogne is 'Floraison', flowering time, when the meadows bubble over in bloom. The grass is high and the painting is good. This happy time offers the painter a colourful & joyful palette.
Experience a Sleepy, Friendly French Village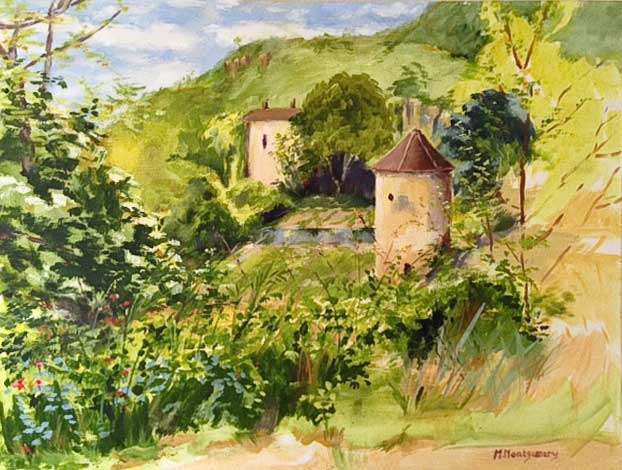 The small village is built around the Abbey. Amble a minute or so down the St. James Pilgrim's Path and you are within minutes in deep unspoilt countryside… Everything that 'the Warm South' has to offer to a painting workshop.
St.Avit is a friendly small village, which is keen to encourage the arts. So you will find a warm welcome… when eventually you do see another human, since it's quite sleepy.
Lots of charming vernacular architecture to paint, even easy stuff for beginners. Built with the honey coloured local stone, which gives a warm mellow glow. A patchwork of pretty gardens & a maze of vegetable patches. The village is on top of a hill, surrounded by woods & working farms, so there's some good views to paint.
A little bit of history…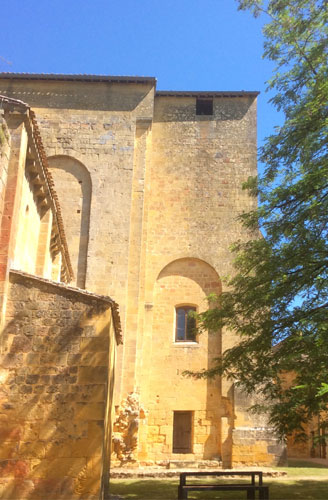 The eleventh century medieval abbey with its Romanesque architecture is now a UNESCO listed world heritage site.The patina of ages, thirteenth century frecoes, the echoes of olden times …
The founder was Saint Avitus (480-570 A.D.), a Visigoth warrior from the Dordogne. Myth has it that he was captured and made a slave in the court of Clovis (466-511 A.D.), King of the Francs. When Clovis converted to Christianity, his court followed, along with Avitis. He gradually gained the respect of his captors & was eventually freed & returned to his natal Périgord, where he took hermitage under the wild cliffs & remote valleys, for such was the nature of early Christian hermits such as Saint Jerome for example. Then came the stories of miracles, of healing, a Holy Well & visions of the Holy Citadel…
The impressive heights of the Romanesque architecture is an expression the Medieval desire to reach to Heaven. The impressive heights of the Romanesque architecture is an expression the Medieval desire to reach to Heaven.
Later on, Avitus was canonized and his miraculous bones exhibited in the abbey, which became an important stop on the pilgrims Camino Way to Santiago, Saint Jacques de Compostelle. I think you can still feel the quiet & calm here.
Inhabited since prehistoric times, the spring was sacred to the Celts. The monks of the abbey built a maze of terraces, vegetable gardens & old stone walls. With cliffs, paths & deep woodland, all within walking distance, there's no need to get in a car to find something to paint. It's a rural, agricultural countryside, with lots of working farms, fields of sunflowers, high grass & meadow flowers … St.Avit is a true jewel found in the heart of the Dordogne.
An Optional Day Trip to the Prehistoric Painted Caves

Visit the prehistoric painted caves in the nearby Vézère valley. Adam has a long term relationship with Prehistoric art & will present & inform you. Otherwise you can chose to stay at St Avit for a day of untutored painting.