Dates & Prices for St. Avit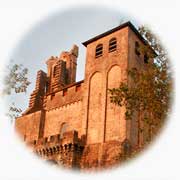 St Avit is an authentic & historic place to paint. Best of the Dordogne, this is a chance to experience friendly french village life. There is a dream studio for you. This course is for the semi-autonomous who can prepare their own breakfast & decide whether they wish to enjoy the 'menu-du-jour' in the bistro together convivially with fellow students, or dine out in the nice restaurant in the village or self-cater. If you would like a holiday with all meals provided, why not take a look at our other venues Le Château de Sanse or Roussillon les Ocres.
Dates

Saturday 5 June – Monday 14 June
Thursday 17 June – Saturday 26 June
This course is suitable for intermediate & advanced painters as well as confident beginners. Not Suitable for absolute beginners (the course at château de Sanse or Roussillon is good for you ).
Course times are 16hr first day & after breakfast last day. There's also the option of arriving a few days early & staying in the village.
Weather
Average temperatures for late May & early June are normally between 18 to 25°C ( 59 – 80°F), agreeable to those who don't like heat. It soon warms up in the strong southern sun. Expect a few days painting in the studio. May is late spring, bright southern light, flowers, blossom & lengthening days. June is early summer, high grass, wild flowers & the return of the swallows. The light is bright & the dusk falls after dinner.
Tutor
Adam Cope – BA (hons) ; Further Education & Adults Education Cert; Foundation Diploma Art Therapy
Prices 2021
The price for this workshop is suitable for those on a budget, who wish to have a long painting course.
* 650€ for the 10 Days Painting Course, unlimited use of the studio & transfers. Payable directly to Adam Cope. Online payment with credit card or bank transfer.
You pay the course fees separately from the accommodation & cuisine. You pay the gite owners & chefs, etc directly:
* 240€ for 9 Nights Accommodation. In a three star gite. No single person supplement. Payable directly to the gite owner. Couples can rent another gite for themselves.
* Count about 220€ for self-catering & the other meals taken together in the Bistro (@ about 16€ for the 'menu-du-jour').
TOTAL = 1110 euros