Dates & Prices for St. Avit 2020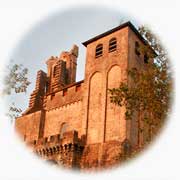 St Avit is an authentic & historic place to paint. Best of the Dordogne, this is a chance to experience friendly french village life. There is a great studio for you. The first course is for beginners & is seven nights/eight days, where we look at the basics. The second course is for intermediate & adavnced painters, and is a ten day painting course. Competitive price. This course is for the semi-autonomous who can prepare their own breakfast & decide whether they wish to self-cater or enjoy the 'menu-du-jour' in the bistro together convivially with fellow students or dine out in the nice restaurant in the village. If you would like a holiday with all meals provided, why not take a look at our other venues Le Château de Sanse or Roussillon les Ocres.
Dates 2020
Saturday 22 May – Monday 25 May 2020 : This 8 day/7 nights course is suitable for both beginners as well as intermediate and advanced. Suitable for absolute beginners.
Wednesday 3 June to Saturday 13 June 2020 : This 10 day/9 nights course is for intermediate and advanced. Good for confident beginners. Not suitable for absolute beginners.
Course times are 16hr first day & after breakfast last day. There's also the option of doing both courses with a break of a few days in-between.
Weather
Average temperatures for May are normally between 15 to 23°C ( 59 – 72°F), agreeable to those who don't like heat. It soon warms up in the strong southern sun. Expect a few days painting in the studio. May is late spring, bright southern light, flowers, blossom & lengthening days.
Average temperatures for June are 24°C (75°F) with a good chance of sunny days. June is early summer, high grass, wild flowers & the return of the swallows. The light is bright & the dusk falls after dinner.
Tutor
Adam Cope – BA (hons) ; Further Education & Adults Education Cert; Foundation Diploma Art Therapy
Prices 2020
The price for this workshop is suitable for those on a budget, who wish to have a long painting course.
You pay the course fees separately from the accommodation & cuisine. So the total price is made up from these:
* 650€ for the 10 Days Painting Course, unlimited use of the studio & transfers. Payable directly to Adam Cope. Online payment with credit card or bank transfer.
* 235€ for 9 Nights Accommodation. In a three star gite. No single person supplement. Payable directly to the gite owner. Couples can rent a private gite for themselves.
* Count about 215€ for self-catering & the other meals taken together in the Bistro (@ about 13€ for the 'menu-du-jour').
TOTAL = 1100 euros