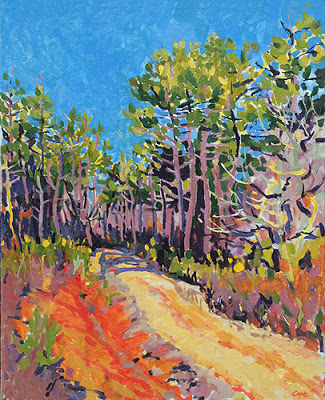 'Les Genets Fleuris'
2008
Oil on Canvas
12 Figure ( 61 x50 cm – 24″ x 19,7″)
© The Artist.
A VENDRE – contactez moi pour le prix
Les Genets Fleuris = Broom in Flower.
Plantagenets in southwest France
Maybe you know the the story of the name of the Plantagenet (Plantagenêt) dynasty? They were named after the broom plant, la plante genet.
The Plantagenets were the Dukes & Duchesses of Aquitaine (here, in south-west France). Eleanor (Aliénor in Occitain, Eleonore in French, Eleanor in English) married the King of France, divorced him & then married the King of England, thus founding the Plantagenet dynasty (Richard the Lionheart was her son). Thus began The Hundred Years War (which actually must be seen in context of the Capetian ambition to subjugate all provinces of France to direct Parisian domination, starting with the Albigenian 'Crusuade' aka the first Inquisition in Europe & the annexation of Provence). Most of the towns & fortified castles around here date from this period.
Even in the woods the human history of the area speaks.
Broom grows well on sandy soil. The orange red earth on the left-hand bottom is 'la terre rouge', which I spoke about in http://adamcope.blogspot.com/2007/04/terre-rouge.html
A path through the woods is a subject I greatly enjoy. The symbolism of a path speaks to me. Wildwood, tanglewood, fangorn, findhorn, deep forests . A place where there is still space for nature… for the time being.
'Le Chemin sur La Causse'
2006
Oil on Canvas
12 Figure ( 61 x50 cm – 24″ x 19,7″)
© The Artist.