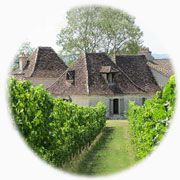 A quality painting course with Adam Cope in a charming hamlet of pretty old stone cottages, set in the vines, high up on the hills, overlooking the southern reaches of the beautiful Dordogne countryside.
Seven nights in September. Includes two trips out : a whole day of painting a historic chateau as well as sketching in a colourful local market.
Le Domaine de Fumel sits on top of a hill that commands the landscape for many miles around. There are many good painting spots within easy walking reach. The rolling southern marches of the Dordogne are a rich & pleasant tapestry of corn, wine, cattle, woods & rivers. A sunny & open landscape, dotted with romantic chateaux & pretty old stone farm houses.

Adam lives nearby and has painted on & around this hill for nearly twenty years: "I'm happy to share with you some the great painting spots that are to be found here. Personally, I'd rather study with a teacher who knows the landscape & local colours."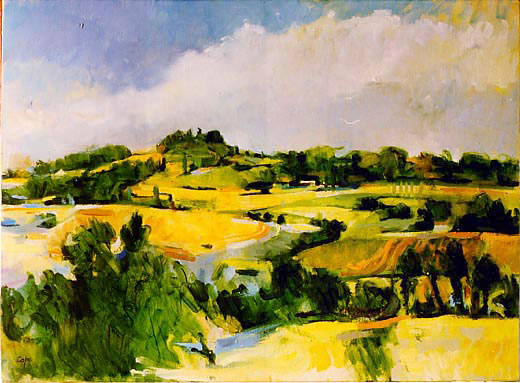 Le Domaine de Fumel is a charming hamlet of old stone houses masterfully restored to three luxury. The building materials are authentic old white chalk, massive oak beams, terracotta tiles… elements of the earth, shaped into buildings by sweat & toil. The agricultural history is visible. 'L'Ancien Chai' is where the wine was stored in oak barrels to mature. It's a private place, where you have quiet, calm & undistracted time for your creativity.
There are two trips out. One whole day of painting au Château de Lanquais, 'Le Louvre Inachevée de Périgord', a wild & magical place, which is actually a thirteenth century medieval chateau, a fifteenth century Sarlat style chateau and a renaissance chateau, a palace in the same style as the Lovre: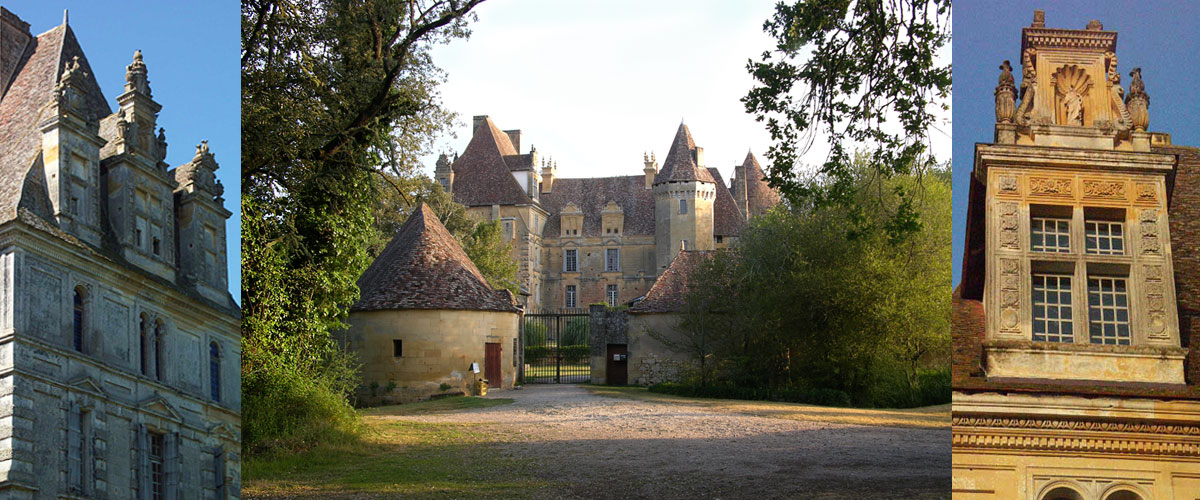 And a trip out sketching in a colourful local market in a beautiful historic town.

There's also the possibility of staying an extra day, which is not included in the price, for a trip to visit to a prehistoric painted cave in the remote & rugged Vézère valley. These caves are one of the highest points of mankind's creativity. They speak to us of our artist beginnings. To experience this is very humbling & moving for a contemporary artist. Adam will give an indepth presentation. We will spend the rest of the day sketching in the Vézère valley, with its river, cliffs & medieval villages.

[button color="white" size="medium" align="center" link="https://www.artists-atelier.com//abbey-saint-avit/the-dordogne/"]Find out more about the Dordogne Region [/button]
The Painting Course
The painting course isn't just painting 'en plein air' outside on location. You will learn painting techniques . There's also a studio for flowers & still lives (endless things to paint from the markets & kitchen), portraits, etc. And the all important last phase of finishing paintings. Easels, tables, stools, boards, solvents, sun umbrellas, etc… Plus the possibility of hiring a set of paints so you can travel lite. This course is appropriate for beginners as well as advanced.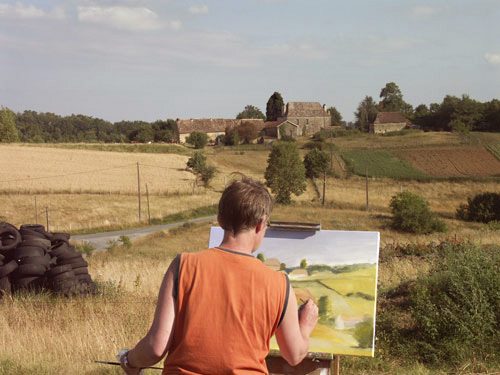 [button color="white" size="medium" align="center" link="https://www.artists-atelier.com//painting-courses/"]Find out more about the Painting Course [/button]
The Accommodation
The accommodation consists of the pretty, old, traditional stone cottages, masterfully restored, which offer a good level of comfort & pleasure. Rated Three Star, they are furnished with a sprinkling of country antiques. Le Domaine de Fumel consists of seven luxury gites, designed as separate gites for two, so you wont be squeezed in, since you will have a private, exclusive gite for yourself. Each gite comes with its own fully equipped kitchen & salon. There's also a solar heated swimming pool & Jacuzzi spa.
Find the gite that suits you:
Double en suite (entire gite)
Twin en suite (two singles sharing room, entire gite)
Single person supplement (one person, entire gite en suite)
Single room, share bathroom with one other (if available, no supplement, entire gite)
One single en suite at reduced price (1 available, no supplement)
Bunty & David Cox are your friendly hosts.
In thinking back to our week together it now seems like we were enveloped in this wonderful cocoon or bubble away from all the troubles of the world and the tourists… – Peter, Australia.
La Cuisine
Come to Fumel and wine & dine in good company 🙂 Laughter & conviviality are the norm. Friends are made & camaraderie soon flows.
We know that quality meals are important for your art vacation. Périgord (the ancient name for the Dordogne region) is known as 'La Table de France,' since it is voted by the French themselves as their favourite. Périgord's regional cuisine is a culinary art never far from the generous soil, 'Terroir' & the loving hard work of the local farmers… Confit de Canard, Magret à la Framboise, country pâtés, Pommes Sarladaise, Poulet Basquaise, cheeses, walnuts, farm chicken and the fresh fruit & vegetables from a sunny climate.
A good continental breakfast with croissants, fresh fruit, yogurt, etc. A fresh, light buffet lunch & in the evening, a hearty french auberge-type four course menu (entrée, plat, fromage, dessert). Your professional french chef for the week is Thierry Berthelot , who has chefed in Paris & Chelsea. He first trained as a 'pâtissier' (pastry cook) so expect a finalé.
Vegetarians are welcome.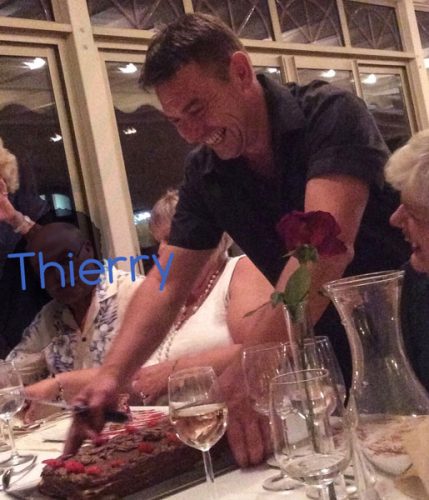 I had a great time and learnt loads, which is pretty amazing since I was eating and drinking so much and socialising. It was just such a great holiday. – Karen, Australia, 2012
'Un aperitif' is offered at the end of your painting day, so you can 'faire une p'tite degustation' of the fine wines of the Bergerac region. Sip a sweet Monbazillac whilst you watch the sun go down. We also serve organic 'vin de table' from the fields near Fumel.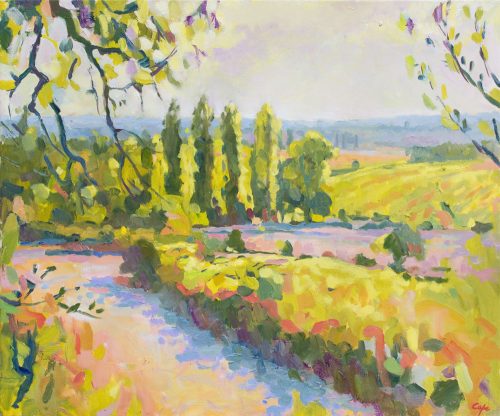 Dates 2018
Sat 5 May – Sat 12 May
Wednesday 19 to Wednesday 26 September

Course starts at 16hr Day One & finishes at 12hr Day Eight
May is late spring. The sun is up, evenings are later, the light is bright but the temperatures are still fresh. Average temperatures are around 22°C (70°F). It's a beautiful time for wild flowers & high grass. The swallows are back.
September is early autumn, late summer & many consider this to be the best season to be in the Dordogne. Average temperatures are around 23°C (72°F) but with fresher, shorter evenings. September often has soft golden light, long shadows, fruit & mists. The vines are heavy with fruit, the vendanges starting & the leaves just beginning to turn.
A quality painting course with Adam Cope
Travel Details
Le Domaine de Fumel is in the commune of Boisse, near to Issigeac & Bergerac, in Périgord Pourpre area of the Dordogne, South West France.
Air Travel
[accordion]
[section name="Bergerac"]Flights to Bergerac Airport from up to nine different UK airports, Dublin, Rotterdam & Paris.
The distance to Le Domaine de Fumel is a 25 minute drive. We provide airport transfers to Bergerac airport & Bergerac on the start and end days of the course at fixed times.
Lots of car hire at Bergerac airport[/section]
[section name="Bordeaux"]Flights from Ireland & UK. Flights to Paris.
Shuttle bus from Bordeaux Merignac to Bordeaux St Jean SNCF train station.
Then take the Bordeaux – Sarlat train & get off at Bergerac. We provide transport from here on the start & finish days of the course at fixed times. Ticket & timetable info from http://www.voyages-sncf.com & http://www.ter.sncf.com/aquitaine/[/section]
[section name="International flights to Paris"]If you are flying from outside Europe, Paris is served by two international airports, Charles de Gaulle & Orly. Details about travel to & from these airports here – http://www.aeroportsdeparis.fr Then train from Paris (see next section for details)[/section][/accordion]
Road & Rail Travel
[accordion]
[section name="Trains from Paris"]As of July 2017, the new ultra-high speed TVG Océane takes about two hours from Paris. The normal TGV (fast train) from Paris Montparnasse to Libourne takes 4 hours.
It's then about 90 minutes to Bergerac on the Bordeaux-Sarlat line. We provide transfers to Bergerac on the start and end days of the course at fixed times.
Ticket and timetable info from http://www.voyages-sncf.com
Bordeaux – Sarlat train info from http://www.ter.sncf.com/aquitaine/
[/section]
[section name="Driving from Paris"]From Paris it is 595Km (370 miles), about 5 hours 40 minutes drive.[/section]
[section name="Driving from Calais"]From Calais it is 877km (545 miles), about an 8 hour drive.[/section]
[section name="Trains from London"]From London using Eurostar is 8-12 hours including a change of trains in Paris.
Tickets and timetable info from http://www.raileurope.co.uk[/section][/accordion]