Accommodation
You stay in 'gites' (holiday cottages) on the fringe of the village, which are about 150 meters, 165 yards from the studio. Quiet, these over look lovely views. Experience a friendly, small, sleepy village in    'La France Profonde.' … un peu de chocolat, pourquoi pas? A game of boules? A drink in the bar? A meal in the restaurant?   … 
The gites are charming old stone houses with sunny gardens. The standard is three stars, not a luxury hotel like our other venue Le Château de Sanse or a large film-set farmhouse like Roussillon.  They are charming, comfortable & spacious. Clean & newly decorated. Cosy & warm. A salon with a sofa & Wi-Fi. A fully equipped kitchen with a clothes washing machine, dish washer, oven, microwave, fridge, etc.
There is no single person supplement. All the gites have either two or three bedrooms and a shared bathroom with a separate loo. What's nice about this arrangement of separate gites is that you are not all shacked up at close quarters but have lots of space & privacy. The gite owners are friendly & want you to have great stay.
Some accommodation is cheaper than others, so ask us if you are on a budget.
La Cuisine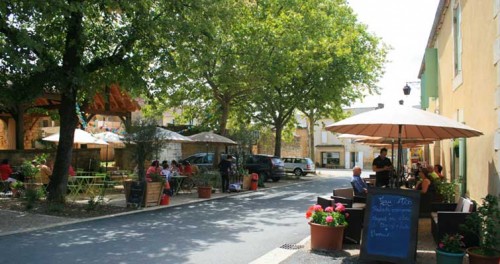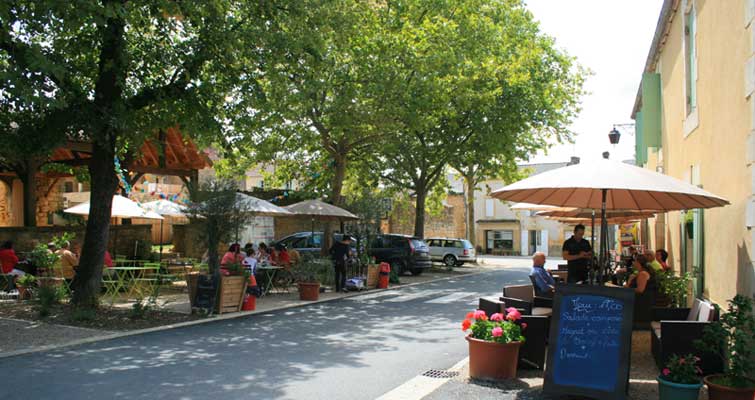 The village Bistro bar 'Chez Cathy & Denis' offers  simple bistro-standard french 'Menu-du Jour' lunches that will set you for the day. These consist of 3 courses with wine & coffee @ about 20€. They also propose snacks from 5€, pizzas from 10€, steak & chips 12€, salads, etc. Cathy & Denis are friendly hosts who take good care of us. These painting holidays are friendly events & the conversation around the table is good. There's often laughter 'Chez Cathy & Denis' & maybe a Friday night concert.
 
 
I think Chez Cathy & Denis give an amazing service and at a very reasonable price. – Maria, UK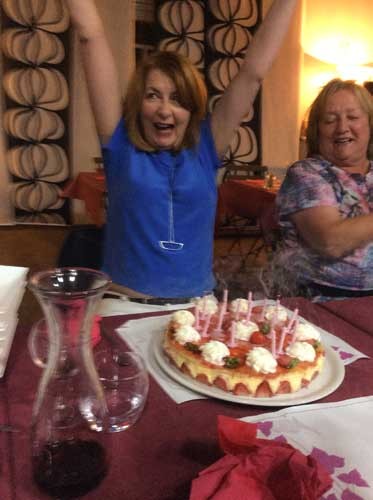 I trust you are all familiar with the song 'Flower of Scotland' by now! Denis, Cathy and family, were amazing hosts too and helped to make it a great evening.  – Eve, UK
For the other meals, you choose for yourself. Either self-cater, the bistro or the restaurant. Help yourself to tea & coffee in the studio.
There's also a nice restaurant in the village called 'La Table de Léo', which offers beautiful regional cuisine as well a tasty good-value 'Menu de Midi'.
The gites have fully equipped kitchens, so you can easily self-cater & prepare yourself a nice quiet breakfast. The gite owners & Adam will drive you a few times to the shops, supermarket, bank & ATM, pharmacy, doctors, gift shops etc. 5 kms away. 
We also visit a colourful local market, where you can join in 'le grand spectacle de la semaine'!  Discover hearty patés, beautiful cheeses, Bergerac wines including the sweet Monbazillac. Eating fresh from the market is the very best way of getting to know the local specialties.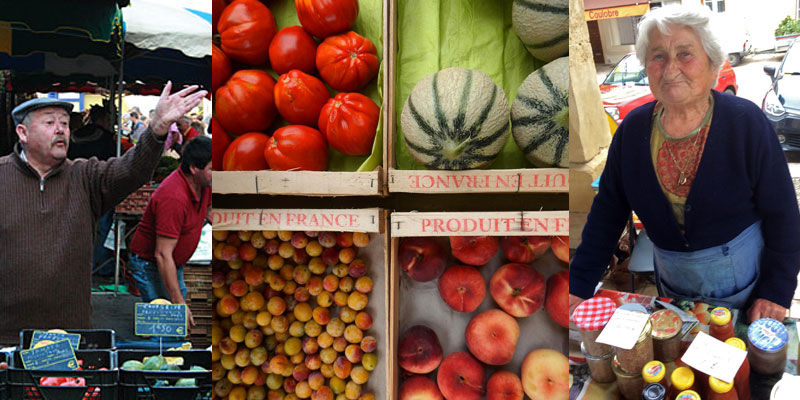 I am missing painting in the sunshine, the studio, Denny's and of course all my new friends but perhaps I will be able to come again next year.   – Muriel, UK